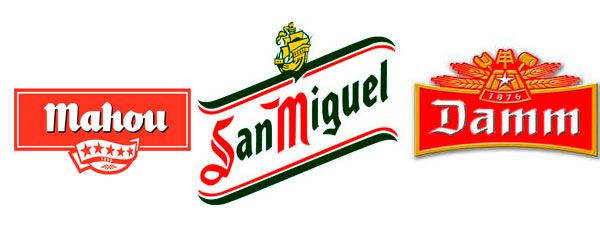 Lauren Simmonds
The following Beer Brands dominate 80% of the Spanish Beer Market: Heineken, Mahou-San Miguel, Damm.
Only the last two are actually Spanish owned – Heineken is a Dutch beer brand.
Mahou - San Miguel
Mahou-San Miguel came about when Mahou bought San Miguel from Danone in 2000. Not many people realize that Danone, the world leader in dairy products, used to be a European beer manufacturer. Kronenburg and 1664, formally owned by Danone, were sold to Scottish + Newcastle for 1.7 billion. Mahou-San Miguel is currently the prevailing brand in the Spanish beer market. Mahou is so called due to being founded by the offspring of a French businessman named Casimiro Mahou.
In 1890, the original San Miguel Brewery was founded in Manila, the capital of the Philippines. San Miguel is still the largest producer of beer in the Philippines today possessing 95% of the market. A Spanish entrepreneur purchased the rights for San Miguel in 1957and began to brew it in Spain. Nowadays, it forms part of the Mahou-San Miguel group which has 30% market share in Spain. In 2004, San Miguel created the first organic beer – San Miguel ECO. Alhambra, owned by Mahou-San Miguel, started in Granada in 1925. It is named after The Alhambra – the Arabic name given to a 10th century construction situated in Granada that has been the home of various Kings of Granada for centuries.
Heineken - Cruzcampo
In 1999, Heineken bought 5 Cruzcampo Breweries from British alcoholic beverage company, Diageo – whose other brands include Smirnoff, Baileys & Guinness. Cruzcampo was established in the early 1900's by male siblings and today it is the biggest selling beer in Spain. This beer was named after a cross found in the field where the original Cruzcampo factory was situated. Cruzcampo came up with the novel idea of alcohol free beer. Cruzcampo and San Miguel both produce "Cerveza Sin" – beer without alcohol – although often it is a low percentage of alcohol rather than alcohol free. Only San Miguel's "Sin" products are actually 0%.
Damm - Estrella
Estrella - meaning star in Spanish – is the most important beer in the Damm group. As part of a £2.5 million marketing campaign, Estrella Damm produced a television advert in the UK to compete with rival brands such as Peroni. The advertisement showed a group of friends in three trendy locations: on the beach, at a concert and on a boat. The advert was recorded on the smaller; more southerly of the two Pitiusic Island: Formentaria. It aired during the summer of 2012 on Channel 4. The beer brand Estrella Damm is trying to target a young "trendy" audience. Other advertising initiatives by them include spending £1m on sponsorship for the 2010 Almodovar film: The Skin I Live In.
Latest Student Articles