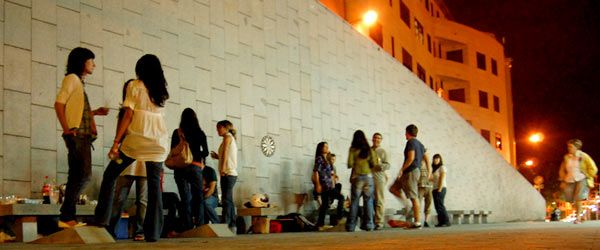 Lauren Simmonds
Spanish people love being outside, not only because of the heat and lack of space inside – as most Spanish people live in flats or apartments – but because they are social creatures and that adore being outdoors. If you have ever spent any time in Spain at all, you may have noticed that the natives enjoy nothing more in life than dressing up and taking a stroll ("dar un paseo"). Overtime, this outdoor culture has led to a cultural phenomenon known as "el botellón".
Drinking in Spain
A botellón, literally meaning "a big bottle", is a typically Spanish nighttime activity that consists of people coming together in public areas (parks, plazas etc.) to socialize with their friends while drinking. Two main reasons why the botellón has risen in popularity are:
a) the high cost of alcohol at discos / pubs etc. and
b) more people can congregate in one place.
A botellón is not an alternative to clubs and bars, but is rather an economical way to hang out with friends. According to recent statistics, over two-thirds of Spanish youths take part in a botellón at least once a week.
The phenomenon originates from the 1980s when Andalusian workers began to buy and consume alcohol outdoors rather than paying for the pleasure of socializing inside a pub or a club. Later, in the 90s, the botellón phenomenon was adopted by a group of young Spanish students which then spread the concept like wildfire. A botellón can be any size, from a small group of friends to a huge, city-wide event. Sometimes, botellónes are bigger social gatherings. As a general rule, people are required to contribute a little bit of money to help pay for their quota of food and drink. If the botellón is very big, it's known as a macro-botellón.
Spanish Lifestyle
Spaniards' love of being outside can have some downsides including the noise and waste that may be left behind. The Spanish authorities have made huge efforts to eliminate these problems including banning drinking on the streets; imposing fines on anyone caught littering; and hiring special cleaning crews.
For many Spaniards, drinking is nothing more than pleasant way to relax while socializing. Many people in Spain start drinking at a relatively early age; and it's not uncommon for a Spaniard to enjoy a quiet alcoholic beverage with their parents from time to time. It seems that Spanish attitudes towards alcohol are much more relaxed than in other parts of Europe. The standard serving of beer in a Spanish bar is a caña (just over the third of the size of an English pint). This suggests that Spaniards often drink without the intent of becoming inebriated.
Much like flamenco and bullfighting, botellón is a deeply routed part of Spanish culture. You'll quickly find out that Spaniards are vibrant, outgoing people who love socializing and spending time out of doors. A botellón is simply an alternative nightlife scene; a wonderful chance to make friends, meet new people and (if you're just visiting) explore a new city and brush up on your language skills...
Photo by mäi
Latest Student Articles