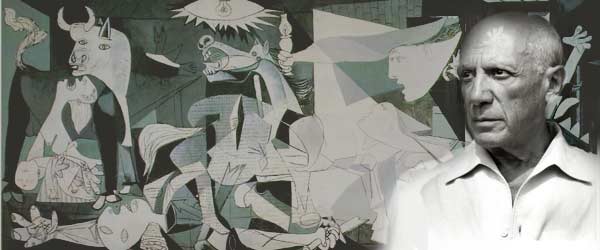 Olivia Elson
Pablo Diego José Francisco de Paula Juan Nepomuceno María de los Remedios Cipriano de la Santísima Trinidad Ruiz y Picasso was born October 25th 1881 in Málaga, Andalusia, and is most commonly known as Pablo Ruiz Picasso, or even simply Picasso. His family background was middle class, and most importantly for many, art was a family passion, his father was a painter specialising in images of nature. Picasso's own role as a painter and sculptor has led to him being known throughout the world, and very often his work is second to none in the artistic fields. His most renowned act is probably the co-founding of the Cubist movement, and has led to being one of the most famous figures in 20th century art.
Artistic love was evident from a young age and it has been claimed that his first word was 'piz', a shortening of lapis, and his training in drawing and painting began at the age of seven with the aid of his father, however this was considered to be the cause for an increasing lack of interest in school work. His education therefore became more focussed on art work, and in 1895 he enrolled in the Barcelona School of Fine Arts, followed by Madrid's Royal Academy of San Fernando, however it did not hold the same pull of Barcelona, and he soon stopped attending classes in favour of viewing artwork by others at the famous museums as well as working on his own portfolio.
One of the most interesting things about Picasso for many is the varied use of style. His primary works are characterised by a realistic technique and manner used during his childhood and youth, whilst at the turn of the 20th century he began to use different theories, techniques and ideas which led, for many, to his fame. One of the most important works of the time is Les Demoiselles d'Avignon, in which the cubist formation of figures and clearly sexual content allows for a very clear message regarding both its literal and figurative backdrop. Other elements of his work include the blue and rose period, as well as a focus on African art, and analytic and synthetic cubism. All of which served to make him both well-known and appreciated throughout the art world as a revolutionary artist, thoroughly mixing between themes and genres.
Each period is characterised primarily by both the colours used and the themes dealt with. The blue period is mainly a collection of sombre works of art, painted for the most part in blue and blue-green shades, infrequently complemented by other colours of a warmer nature. In contrast the rose period is focused on oranges and pinks, indicated both a more upbeat style of painting and life by the artist. The African influenced period is most famously categorised by Les Demoiselles D'Avignon, which was motivated by a growing love of African artefacts, and also led directly to the following cubist period. This is probably best exemplified by Guernica, thought of by many as Picasso's best and most famous work, exemplifying the inhumanity, brutality and hopelessness of war.
His personal life however was much less positive and Picasso is known to have fathered 4 children by 3 women. His womanising was well known, and above all the fact that he almost always had a mistress in addition to his partners, who were frequently tossed aside for a younger and more attractive conquest.
Latest Student Articles