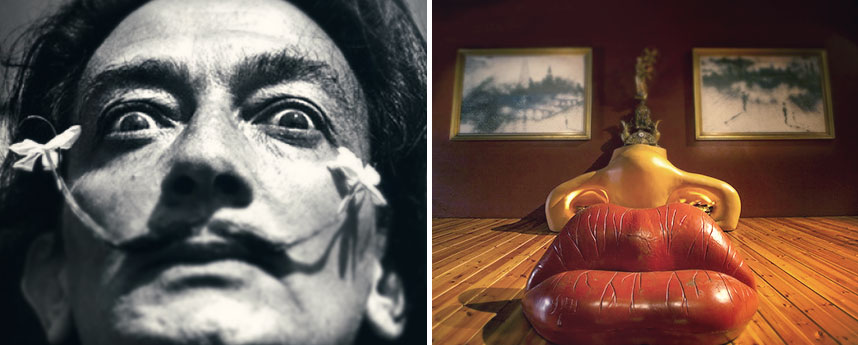 Hannah Myers
Born in Spain, Salvador Dalí is one the most famous surrealist painters of his time; well known not only for his iconic artwork but also for his eccentric behaviors and style. The influence of the Renaissance painters is evident in his art, but it is the profound artistic interpretations of the human psyche which really set Dali apart.
Salvador Dalí remains an icon of 20th Century Spanish Art, and his art was influenced by a range of sources, and supposedly inspired in part by his lifelong muse, Gala.
Dalí rejected the compatibility of art and politics, his art is instead iconic for its symbolism and portrayal of the human subconscious.
In 1922, Dalí moved to Madrid to study at the Real Academia de Bellas Artes, and during his time there, formed a strong friendship with several well known figures; amongst these most notably Federico García Lorca. Dalí then began to experiment with cubism, though in 1926 he painted The Basket of Bread which is considered proof of his exceptional technical talent in painting realistically. It is considered that many of Dalí's themes and patterns that became consistent threads in his work began to develop in the 1920s, as he was influenced by a range of sources. His influences came from both the classical and the alternative; he was notably inspired by Vermeer and Raphael Bronzino amongst others, and his oscillation between modernist and classical style meant he was met with mixed critical reception.
As with many great artists, Dalí had a muse, a woman called Gala he met in 1929 who went on to become his lifelong inspiration and partner. 1929 proved an important year in Dalí's career for other reasons, with an array of exhibitions and the joining of a group of surrealist artists in the Montparnasse region of Paris. During the Second World War, despite most surrealist artists having aligned themselves in opposition of the German Nazi government, Dalí maintained that politics could never be compatible with art. Then, in 1940, he travelled to the USA where he and Gala lived for a period of 8 years, before returning to settle back in Catalonia where he would remain until death. Some of Dalí's most iconic pieces include The Elephants (1948), The Last Supper (1955) and Rhinoceros dressed in lace (1956).
The symbolism employed in Dalí's work is perhaps its most recognizable attribute. For example, in one of Dali's most famous pieces entitled The Persistence of Memory, produced in 1931 soon after Dalí joined the Surrealist movement, the watches supposedly convey Einstein's take on relativity, suggesting that time is not fixed. It is said that Dalí had originally made the connection between melting and the passing of time on seeing some melted cheese in his studio. The melting clocks have become iconic in the art world, and the painting combines Dalí's impressive technical skill with evidence of his vivid imagination. Locusts in his paintings are supposedly symbols for fear or waste, with ants often alluding to decay, death or intense lust, and snails to the human head. 
Gala passed away in 1982, and Dalí chose to move into the castle he had purchased for her. After 7 years without her, Dalí himself died in 1989. His burial site is the Casa de Figueras; the very place he had been baptized and taken his first Holy Communion.
Latest Student Articles