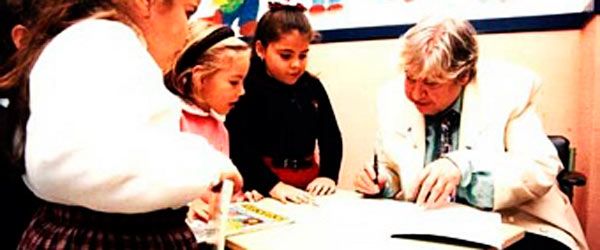 Lauren Simmonds
Gloria Fuertes
Gloria Fuertes is one of the most highly regarded writers of Spanish books for children this side of the Spanish civil war, publishing over 50 books in her lifetime. Fuertes was born in 1917 in Madrid to a humble family. Her mother was a seamstress and her father a porter. Fuertes attended various schools as she was growing up including a catholic school. In one of her poems, she said that the nuns used to pinch her. In 1934, after the death of her mother, Fuertes began working as an accountant. Whenever she had any spare time, Fuertes would work on her poetry.
In 1947, Fuertes was awarded 1st prize for her lyrics on Spanish national radio. In 1950, she published her first collection of poems: "la isla ignorada" which included a poem of the same name in which she describes herself as an island surrounded by nothing: "soy como esa isla que ignorada (…) rodeada de nada". Arguably, the motivation behind this poem was that her mother died at a young age and out of the two men she had ever loved, one was lost at war and the other was sent to prison. Between 1955 and 1960, Fuertes studied librarianship and subsequently opened a travelling library.
Pájara Pinta
Fuertes wrote an interminable number of poems throughout her lifetime, however there is no single poem which is more famous than the rest as is the case with other famous poets. For example, English poet John Milton is undoubtedly most famous for "Paradise Lost". However, Spanish people are sure to have heard of Gloria Fuertes but may not know any individual titles. However "Pájara Pinta" is a well-known poem of hers:
La pájara pinta
Y el pájaro pintón
Tenían su nido
Debajo del balcón
Fuertes had to work throughout her life at several office jobs and as a librarian to support her writing, however in 1972 when she was 55 years old, she was awarded the children's literature scholarship which enabled her to devote her life to writing. From this moment, Fuertes was unstoppable: readings, recitals, concerts and tributes – always centered on children. Fuertes died in 1998 and a foundation has been created in her honor.
Latest Student Articles