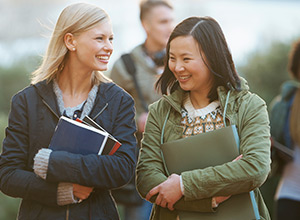 This is our most popular course and it is perfect for anyone that would like to learn Spanish quickly and efficiently. It offers four intensive Spanish lessons, Monday through Friday, in classes that never exceed eight students. If you're interested in advancing even faster, we recommend taking the 30 + 5 course, where you'll get two extra classes each day of writing and speaking practice.
With our "formula 1", you also get the chance to attend an extra culture class every day, completely free of charge. These classes cover a wide range of topics related to the cultures of Spain and Latin America and are a valuable compliment to your language lessons, as an understanding of socio-cultural aspects is an essential part of learning a language.
Intensive Spanish courses are available at any don Quijote school: Madrid, Barcelona, Granada, Salamanca, Valencia, Tenerife and Guanajuato.
Engaging, Interactive Spanish Classes
Our classes integrate all Spanish language skills, where language instruction is combined with dynamic activities in which you are the protagonist.
Common activities:
Analyzing and debating articles from periodicals
Practice talking on the phone in Spanish
Watching and discussing documentaries and films
Listening to music in Spanish
Discussions on current events
Focus on grammar in specific contexts
Leisure Spanish Programs
You can also combine your intensive course with a fun leisure course.
Learn how to prepare delicious dishes from Mexican or Spanish cuisine by taking a cooking course, try the bold flavours of Spanish wines with our wine tasting course, dive into the crystal clear waters around the Canary Isands, or lose yourself in the passionate rhythms of Spain with Flamenco lessons.